Dear colleagues and friends,
We are thrilled to announce that Adriana Rojas has been selected as the Associate Vice Chancellor for Auxiliary Enterprises and Fiscal Innovation at UC Merced. With over 26 years of experience in accounting and finance at the University of Texas at Austin, Rojas is a seasoned professional who brings a wealth of knowledge and expertise to her new role.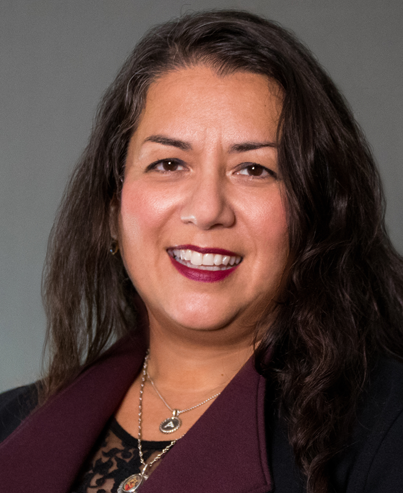 As Senior Director for Business Services for University Housing and Dining at UT Austin, Rojas provided transparent and user-friendly services for students while leveraging campus partnerships. She oversaw a range of teams, including information technology, accounting, finance and payroll, marketing and communications, and administration. We are confident her experience in these areas will prove invaluable as we work to enhance UC Merced's auxiliary enterprises and fiscal innovation efforts.
Rojas earned her bachelor's degree in business administration with a major in accounting from Texas A&M University and her master's in public affairs from the LBJ School at UT Austin. Prior to joining University Housing and Dining, she worked in various UT departments, including business and financial services, utilities and energy management, and payroll and accounting.
"I am excited about making UC Merced's mission my own!" Rojas said. "An education can alter the course of a person's life. As a first-generation student, education continues to improve my life, and contributing to others is a way of giving back and is incredibly gratifying to me!"
As Associate Vice Chancellor for Auxiliary Enterprises and Fiscal Innovation, Rojas will provide oversight for a dynamic portfolio of services, including Housing and Residence Education; Dining Services; the University Store; Transportation and Parking Services; the Early Childhood Education Center; Hospitality Services; auxiliary facilities and systems; custodial; retail contracts; and the Auxiliary and Fiscal Innovation administration team. 
"I am excited to have Adriana join UC Merced's team," Vice Chancellor for Student Affairs Charles Nies said. "I am confident that both her professional experiences and lived experiences will help advance our campus operations and connect to our students as we support their success."
"It was clear from our interviews with Adriana that she has a clear understanding of our university's mission and the skills to support our students and be a leader in carrying out UC Merced's goals," said Interim Vice Chancellor and Chief Financial Officer Kurt Schnier.
We thank the search recommendation committee:
Anthony Garrison-Engbrecht, Assistant Vice Chancellor & Senior Advisor for Student

Bianca Khanona, Associate Vice Chancellor for Financial Planning & Analysis

Nicolette Tuazon, Student Representative

Soceek Tchouboukjian, Assistant Director UC Online Academic Records & Student Support
We also thank all those who participated during the interview process, along with Executive Assistant Gina Vieira for support in the planning and coordination of the search process and visits.
Please join us in welcoming Adriana Rojas to UC Merced. We are confident her expertise and leadership will be instrumental in advancing our goals and supporting the success of our students.
Sincerely, 
Charles Nies, Vice Chancellor of Student Affairs
Kurt Schnier, Interim Vice Chancellor and Chief Financial Officer