Greetings, Division of Finance and Administration colleagues,
These past weeks have confirmed to me that tough times bring out the best in us. I continue to be awed and inspired by the incredible efforts everyone in the division has put into realigning our campus to meet the challenges of the COVID-19 outbreak.
Whether your roles have sent you home or require that you remain on campus, you are doing the division and the university proud and ensuring UC Merced can continue its mission to our students and our community.
I have appreciated the opportunity to join several departmental meetings last week to provide updates about the pandemic's impact on our campus. In the coming days I will continue to attend these meetings and answer questions.
Here are some updates and information:
COVID-19 information and resources
"Keep Calm and Remote On": Human Resources and the Office of the Ombuds has hosted a series of online discussions that addresses the challenges of telecommuting. The series, called "Keep Calm and Zoom On," invites participants to talk about best practices for working remotely. The third and final discussion is scheduled for 11 a.m. to 12:30 p.m. April 22. Register for a session at the UC Learning Center .
Telecommuting extension: A reminder that staff who are working remotely need to amend their Temporary Telecommute Agreement , which has been extended to May 31. There's a simple online form to extend the agreement.
Defusing Zoom bombing: I'm sure few of us had heard of Zoom bombing until recently. But now we know it's a problem. OIT is tightening the security for Zoom online meetings by requiring UC Merced's single sign-on. The change begins Monday, April 20. Go here for more information.
Tracking university equipment: Many of us brought home university property such as laptops, phones and monitors when we started working remotely. The division is working on how to inventory this equipment so we all can account for it when the days comes that we return to campus. Stay tuned for more details about this.
Activities for kids: Danielle Waite, Early Childhood Education Center Director, provided some smart ideas for interactive pursuits children can enjoy while they're sheltered with their parents or caregivers.
Welcome new staff: As the division has been actively recruiting for a variety of positions, I would like to thank our Human Resources team and the folks involved in search committees and interviews. We are pleased to welcome the following staff members who joined in March:
Sabrina Keller / ACT
Elizabeth Sisonethasy / ACT
Nicole Ridge / ACT
Krystal Amaya / ACT
Karely Gonzalez / ACT
Katie Winn / ACT
Randolph Encinas / Shipping and Receiving
Michael Gonzalez / Center of Institutional Effectiveness
Anthony Narsi / Center of Institutional Effectiveness
Raymond Alvarez / Dining Services
Jennifer Gueta / Dining Services
Melissa Tessier / Financial Systems Support
Koffi Apedoh / Financial Systems Support
NeriNelly Aguilar / Financial Systems Support
In addition to our new staff members, I'd also like to recognize current DFA staff who have transitioned to new roles.
Lisa Hua, Senior Financial Systems Support Analyst
Devan Hinojosa, Fixed Assets Accountant
Kimberly McComb, Accounts Payable Analyst
Mark Burrola, Lead Custodian for North Campus
Ian Cooke, Administrative Assistant
Congratulations to Meagan Torres, Senior Strategic Sourcing Manager in Procurement Services, for being named to the UC Women Rock IT list . Compiled by the UC Women in Technology Committee, the list honors accomplishment in UC's tech world. Meagan was cited for partnering with project management to improve technology procurement and help establish processes that ensure IT staff get involved before the campus makes technology purchases.
Project updates: If you haven't done so already, please visit the website built for the Alpha Financials project. The site answers numerous questions about the project, which is overhauling how UC Merced handles financial transactions and reporting. Alpha Financials is on track to have the new Oracle Financial Cloud capabilities available to the campus in January 2021. A companion project to streamline our travel planning capabilities with the Concur platform also is on schedule to make a January 2021 debut.
Get to Know: Carla Krogh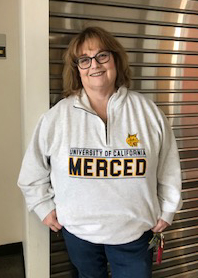 Each month, we train a spotlight on one of our division colleagues to learn about their lives at UC Merced and beyond. This month's profile features a longtime member of the campus team who has forged special bonds with our students.
What's your job title? Cashiering Manager
What do you do in your job? I have two awesome staff members – Alicia Bellusci and Jan Owens – who make my life easy. I work with departments to put events online that need to collect funds. I also work with student groups to collect their dues online. This allows them to not keep too much cash in their dorms or houses. I work with Dining, Marketplace, The Lantern, Rec Department and Development on their daily deposits and on balancing credit card receipts. I'm also helping with the campus' conversion to the Oracle Financial Cloud.
What do you enjoy most about your job? The student contact. They make life fun. Every bit of drama they cause is why we are here.
How long have you been with UC Merced? As of April 2, I've been at UC Merced for 19 years.
Are you a Valley native? Yes. I was raised in Gustine and live in Merced.
We hear you are very involved with student groups. I'm the faculty/staff advisor for Omega Delta Phi . I've worked with them since they started and became the adviser in 2010. I provide them with community service hours and work alongside them. They are so much fun. I stay in contact with alumni. I'm invited to weddings, baby showers, birthdays and graduations.
What do like to do when you're not working? I work with the Special Olympics and other community events. I also follow professional rodeo. My true fangirl moments are with bullfighters such as Frank Newsom. I also like bull riders like João Ricardo Vieira, Ryan Dirteater and Derek Kolbaba.
Who's next? Is there someone you would like to nominate for the monthly profile? Let us know .
DFA Question of the Month
Thanks to those who responded to last month's question: Who performed at the first live concert you attended? Here's what we learned:
• KISS. – Bertha Perez, Housing/Custodial
• Born and raised in East San Jose! As a freshman in high school I saw Tower of Power opening for Carlos Santana! Best ever! – Ro McKinney, Talent Acquisition
• Kenny Loggins! Harvey's in Lake Tahoe. I was about 9 years old! – Denise Cardenas, Treasury & Disbursements
This month's question:
During these challenging times, what do you do to unwind and relax?
Please submit your response by Monday, April 27. Selected responses will be published in the next DFA Monthly Newsletter. Looking forward to discovering more about our talented team members!
Do you have questions? Feedback you want to share? Items to include in the next newsletter? I encourage everyone to reach out via our Comment Box or by emailing us at dofa@ucmerced.edu.
Sincerely,
Mike Riley