Prepared remarks by Michael Riley, Interim Vice Chancellor and Chief Financial Officer, for Kick-off Breakfasts held Jan. 15 at the Pavilion Dining Center and Jan. 17 at the Downtown Campus Center.
Good morning! I hope everyone has a full plate or a full stomach. I just want to share a few remarks and acknowledgments as you all continue to enjoy this wonderful breakfast. Before I start, I'd like to recognize Gina Vieira for helping coordinate this morning's spread for us. Let's give her a round of applause. What a way to welcome in the new decade and the start of a new semester with good food and great colleagues!
Over the past week, we have hosted breakfasts for our various team members. It's great to reconnect with familiar faces, but also meet and welcome the new faces in the crowd.
Before I start my remarks, let's welcome our new employees who came on board during the year.
Office of the Vice Chancellor

Darlene Short

Gerry Elizondo

Jody Murray

Chiquitha Aminsalehi

Business and Financial Services

Greg Sweet

Procurement

Ramon Moradi

Priya Lakireddy

Theresa Mason

Koy Saephanh

Sean Pamer

ACT

Carmen Aguiniga

Bryan O'Neill

Natalie Butler

Eric Banh

Jessica Molina

Tessa Easley

Ian Cooke

Michele Amador

Robert Gilbert

Destinee Lima

Mary Larke

Frankie Vasquez

Iyari Ortiz

Juana Dumagan

Human Resources

Julia Crowley

Peter Ishaya

Luke Wiesner

Luis Figueroa

Nicole Pollack

Emanuel Alfaro

Kevin Reyes

Phikoun Khamchanh

Meshell Alcantar

Payroll

Christina Saxton

Arturo Marroquin

Taylor Trevino

Rachel Maldonado

Financial Planning and Analysis

Michael Torres

Bianca Khanona

Paritosh Soni

Center of Institutional Effectiveness

Edmund Leung

AFI

Mark Cunningham

Adam Jensen

ECEC

Zina Kumetat

Rosalva Rico

Housing

Carla Ramos

Conference and Events

David Castro

Campus Store

Cynthia Martinez

TAPS

Veronica Turner

Dining

Emilio Barrera

Jacob Baer

Michael Bongiovanni

Glenn Hill

Eric Jegoux

Adrien Gonzales

Garren Pitts

Jana Chriselle de la Paz

Ericka Crystal Rosas

Qadira Jennings

Custodial

Casey Benavides

Ma V De La Cruz Bonilla

Jose Barajas

Jeremy Mancebo

Food Service

Amber Veenstra
I've asked each area to share with me a list of accomplishments in the past year. Needless to say, when I saw the list I was like, "WOW"! You don't see it in the day-to-day, but when you start to make a list it shows how much we've accomplished and puts your individual and collective hard work and dedication in perspective. Let me share a number of pride points and updates from each of the areas:
BUSINESS AND FINANCIAL SERVICES – The team had a busy 2019.
Kudos to the Travel Management, Treasury and Disbursements Team for winning the Staff Assembly Halloween Costume Contest with their vintage airline theme. The enthusiasm and imagination throughout DFA was a treat to see.
Also, our Alpha Financials project – an extensive modernization of UC Merced's financial system – is underway. Many here have been involved in the project – from requirements gathering and design sessions to technical development and system configuration sprints. The team will continue to push forward as we start rolling out the Common Chart of Accounts and look forward to system launch later this year.
The implementation of the new financial system has resulted in the creation of new departments and job opportunities. The new departments under BFS include Financial Systems Support under the leadership of Executive Director Emily Bustos, along with Project Portfolio Financial Management. We have opened recruitment for several positions in BFA to support the staffing needs of Alpha Financials. Some of the positions will be internal recruitment and open only to UC Merced employees, allowing current staff the opportunity to advance their career.
Behind this large project is a dedicated team within and outside our division that has been working diligently, often on top of existing workloads, to ensure our new financial system meets and exceeds the growing needs of our campus. I'd like to recognize Emily Bustos, our Alpha Financials Functional lead, as she along with Interim Controller Kim Groesbeck have been moving the project forward. Let's acknowledge the DFA folks who have been involved.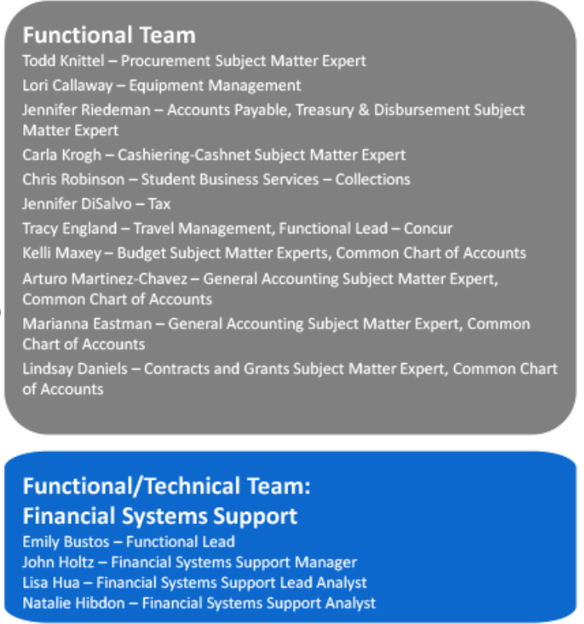 CENTER OF INSTITUTIONAL EFFECTIVENESS – Since the team was launched last summer, CIE has published 97 data visualizations that help our campus partners literally see the progress toward their goals, especially in the areas of student success and enrollment management. CIE also unveiled a sleek, informative website that spotlights the team and its services.
FINANCIAL PLANNING AND ANALYSIS – In addition to welcoming three new staff members to the team, including AVC Bianca Khanona, the FP&A team has been busy realigning DFA unit budgets to improve consistency across the division. The team coordinated with Workforce Administration position delegates on retooling timelines for hired positions, leading to a current-year savings of $1 million. FP&A collaborated with the Chancellor's Office on its bi-annual discretionary funding budget call and provided reports used in the office's analysis of funds and funding sources. And the team is rolling out a standardized budget report to all administrative units. The reports already are in place for DFA and Student Affairs, and have become invaluable tools.
HUMAN RESOURCES – There are nine new faces in HR, including Chief Human Resources Officer Nicole Pollack. This past year:
HR processed 363 classifications in 2019, a year-over-year increase of 46%. And the classifications were completed in an average of 11 days, a 28% decrease.
More than 350 people attended the Open Enrollment and Wellness Fair, getting timely information on benefits. As a result, not a single campus employee reported a missed opportunity to make their selections.
Talent Development developed and piloted the Peak Pioneers Leadership Program. And Talent Acquisition saw a 41% increase in recruitments.
Employee Labor Relations engaged in local bargaining with the Teamsters for a skilled trades successor agreement.
And the Payroll Center implemented the Student Employment program and converted the campus to an electronic I-9 work eligibility process. In even bigger news, the Payroll Center has moved from HR to Business and Financial Services, and changed its name to Payroll Services.
PROCUREMENT – The academic year started with a bang for Procurement as Tony Smullen, ACT Executive Director, received the Manager Award at Staff Assembly's Excellence Awards ceremony. Procurement was already riding high in 2019 with the launch of Bobcat Buy, a system built on the Jaggaer platform that streamlines the campus' purchasing processes. In addition to welcoming new Procurement team members, we look forward to continued growth as we expand Shared Services this year.
AUXILIARY ENTERPRISE AND FISCAL INNOVATION – This unit has undergone major shifts and transitions as the campus continues to grow. We continue to expand AFI with Mark Cunningham, our Interim AVC for AFI. A number of highlights include:
Early Childhood Education Center – Kudos to Director Danielle Waite and the ECEC team for earning four-year renewal of its accreditation through the National Accreditation Commission for Early Care and Education Programs (NAC). The center, which opened in 2009, provides care and activities for children ages 6 weeks to 5 years. We thank the ECEC team for being positive role models for our future leaders and future Bobcats.
Conference & Events – As we look forward to the fall 2020 opening of the Conference Center and expanding our conferencing and event services, we formed Hospitality Services to encompass catering; conference and event services; Conference Center; central reservations; campus events; and guest housing. Thank you to Debbie Henderson and the growing Hospitality Services team for continuing to evolve and grow these important services.
TAPS – The team, under the leadership of Karin Groth, has continued to grow with our campus community, and will continue to do so with the completion of the 2020 Project and beyond. TAPS has been very responsive to feedback from riders, including bringing on three new buses and retrofitting nine more buses with better suspension for spring semester in response to customer concerns about rough rides.
Campus Store – The team was heavily engaged with Fall Move-In Weekend and the Fall Grad Fair. For Giving Tuesday, the Campus Store and Marketplace raised over $350 by asking customers to donate $1. The store served more than 4,000 customers at the Winter Blitz sale. By transitioning more than 40 courses into the Inclusive Access digital course material program, the Campus Store was able to save students over $400,000 in book costs for fall semester. This savings will continue through spring semester and grow with the efforts of Nathaniel Garcia, Textbook Manager, working with faculty and academic departments.
Dining – The Dining Team has been busy this past year with community outreach and campus projects. Chef MitchVanagten shared these highlights:
The team's staff and students compiled more than 500 volunteer hours in 2019 at various events to support non-profits in Merced. The team also supported fundraisers and initiatives for Bobcat Pantry.
The Pavilion team converted to the All You Care to Eat serving process just one year after opening the facility.
Secured a grant to support the student-run UC Merced's Community Garden
Facilitated an agreement with produce vendor, Daylight Foods to donate "ugly" produce that would otherwise go a landfill.
Chef Matt Perez won a Staff Assembly Award for Community Service and took second place in Tyson Foods' chicken wing recipe contest.  His recipe will be featured in a Tyson cookbook. 
Hosted the first guest chef culinary demonstration. Chef Jacques and Chef Paul from the Monterey American Culinary Federation donated half a lamb and did a hands-on butchery class for the dining team and guests. 
Facilitated a collaboration with Yosemite High School to pick up our spent coffee grounds to use as compost.
Housing – Opened two additional residence halls last fall and now has more than 3,600 students living in on campus. More than 300 student, staff and community volunteers helped residents and families with the fall move-in process. Housing has implemented Smiota Smart Lockers to reduce student lines for packages and Salesforce to manage student questions and concerns about housing and meal plans. The Housing Custodial team provided support in the relocation of the Pantry and remained involved in Zero Waste program to ensure we are on track to meet 2020 goals. The full Housing team continues to build relationships with residents and in daily tasks that allow students to live in a clean, safe, and engaging environment for active community building.
---
Moving forward, 2020 is a milestone year. Not only is it the 15th year since we opened our doors, but we'll be completing Project 2020, one of the most important initiatives in the campus' relatively brief history. The newest additions from the project will include 980 housing beds, 630 parking spots, five buildings, a transportation/transit hub, tennis and basketball courts, and an Olympic-size swimming pool. We'll be working on some a new travel system and a financial and budgeting system. We'll be bringing online a conference and events center and working on building out auxiliary services. The auxiliary team is hard at work looking at future opportunities. Possibilities include things like a post office and packaging center, a new campus store, more retail and food services, and maybe a restaurant or lounge. The possibilities are endless.
There's a lot to be excited about as we start the new decade, and there isn't anyone I'd rather do these big projects with than all of you. You are what makes UC Merced great and I'm incredibly proud to be part of this institution because of all of you. You make it happen, you are the heart of UC Merced, and I look forward to working with you all in the coming year. Thank you!
Please continue to enjoy the wonderful breakfast and each other's company.