Greetings, Division of Finance and Administration colleagues,
Over the past few weeks I've had the privilege of visiting meetings of units and teams throughout our Division. On every occasion, I've been inspired by the professionalism and resiliency exhibited by my colleagues as we make our way through the far-reaching changes brought by the COVID-19 crisis. We are taking the new challenges head-on while staying the course on projects and processes begun long before the pandemic took hold.
I'm proud to work alongside each one of you. Let's keep moving forward.
And now, some news:
Stay informed : As we navigate the course changes caused by the pandemic, remember to keep an eye on your inbox for fresh guidance, and to check these links for archived information and answers to questions.
Celebrating Service … virtually: Two Zoom-based events are scheduled for Monday, May 18 to recognize 29 DFA colleagues for their years of UC service. Please mark your calendar for the following DFA Celebrating Service Awards ceremonies, listed by the units or departments in which the honorees work:
1-2 p.m.: Housing, Dining, Bookstore, and Early Childhood Education Center. Zoom link
2:30-3:30 p.m.: Administration Coordination Team, Treasury, Banking & Cashiering Services, Center of Institutional Effectiveness, Human Resources, Procurement Services, and Office of the Vice Chancellor. Zoom link
We are collecting stories about and messages to the Celebrating Service Award honorees that we can use in the virtual ceremonies. Please submit your contributions online by EOB Monday, May 11.
Celebrating Service Awards 2020 Honorees
Division of Finance and Administration
25 Years
Anthony Dean Smullen Administrative Coordination Team
15 Years
Juana Christine Dumagan Administrative Coordination Team
Pamela Sue Taylor Administrative Coordination Team
10 Years
Adrian Del Toro Auxiliaries - Housing/Dining
Christie Ann Harvey Treasury, Banking & Cashiering Services
Angela Dawn Liu Auxiliaries - Bookstore
Norma Leticia Lizarde-Rios Auxiliaries - Housing/Dining
Amanda Nicole Pia Early Childhood Education Center
Raul Sanchez Jr. Auxiliaries - Housing/Dining
Corinne L. Townsend Center of Institutional Effectiveness
5 Years
Felidonia Aguilar Auxiliaries - Housing/Dining
Peter Arroyo Auxiliaries - Housing/Dining
Mark Joseph Burrola Auxiliaries - Housing/Dining
Cinnamon L. Danube Center of Institutional Effectiveness
Pedro Gomez Meza Auxiliaries - Housing/Dining
Amanda L. Johnson Auxiliaries - Housing/Dining
Christine Ann Lima Early Childhood Education Center
Jay Lomeli Human Resources
Lee Moua Human Resources
Sean Patrick Murray Auxiliaries - Housing/Dining
Ma Guadalupe M. Padilla Mota Auxiliaries - Housing/Dining
Marcia Patino Human Resources
Kevin M. Reyes Human Resources
Jennifer Riedeman Treasury, Banking & Cashiering Services
Meagan Torres Procurement Services
Katrina Trexler Auxiliaries - Housing/Dining
Gina Vieira Office of the Vice Chancellor
Lacee Noel Yokley Auxiliaries - Housing/Dining
Sonya Jo Zaragoza Early Childhood Education Center
Attention, telecommuters: A reminder that staff who are working remotely need to amend their Temporary Telecommute Agreement , which has been extended to May 31. There's a simple online form to extend the agreement.
Tracking university equipment: Although the Temporary Telecommute Agreement requires self-reporting of University equipment, DFA is tracking detailed equipment information via the Work Equipment List form. Completion of the form is required for all DFA telecommuting employees, regardless of whether you have submitted this information for existing telecommute agreements prior to March 17, 2020. If you have submitted equipment information to your supervisor since March 17, your FAST team member will follow up to confirm receipt of the form. Please complete and sign the Telecommute Work Equipment List form and forward to the appropriate FAST team member by Friday, May 8.
If you have questions regarding telecommuting amendments and equipment list tracking, please reach out to your respective FAST team member: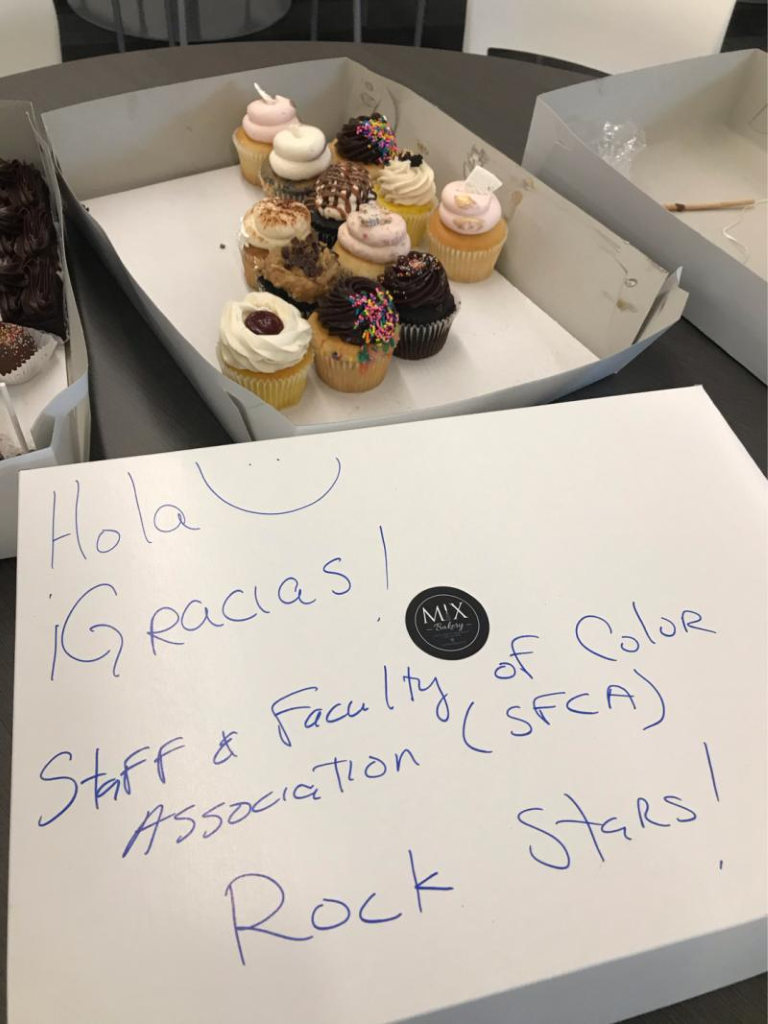 Thank you! From Executive Chef Mitch Vangaten on LinkedIn: "Grateful to have such generous colleagues at UC Merced! Our dining team received some sweet treats yesterday courtesy of UC Merced's Staff and Faculty of Color Association! How thoughtful! They also supported a local small business! #team #local #ucmerced #colleagues #grateful #appreciation"
Alpha Financials and fiscal close: The Alpha Financials project, which includes the implementation of the Oracle Financial Cloud system and the new Common Chart of Accounts (CCoA), needs assistance from campus stakeholders to participate in chart of accounts cleanup needed to close this fiscal year in the current financial system and prepare for the conversion to the new system in January 2021. The project team has reached out to campus departments with list of FAUs for review. If you have questions, please contact General Accounting at accounting@ucmerced.edu .
CIE website updated: In April, the Center of Institutional Effectiveness launched a second version of its website. Operations Business Analyst Anthony Narsi, a new member of the CIE team, along with student intern Jason Baltazar led the redesign, which shines a brighter spotlight on the data-rich interactive dashboards in the Analytics Hub .
Inside UC Merced: Several Division projects are cited in the spring edition of Inside UC Merced, a quarterly digital magazine for staff and faculty. If you have news or updates you'd like to see in the next edition, scheduled for August, please reach out to Jody Murray.
UCPath downtime: I want to remind you that UCPath will go offline later this month to accommodate the addition of two more UC campuses to the system. The online portal will be down 10 p.m. May 22 to 8 a.m. May 28. Payroll timelines and timesheet submissions will  not be affected.
Big change to Time Reporting System: UC Merced's Time Reporting System (TRS) is shifting hosts from UCLA to UC Irvine. The change occurs June 4. Employees on monthly pay schedules should not create their May timesheets until that date. Those on biweekly schedules should not create a timesheet for the May 31-June 13 period until June 4. Timesheets created before that date won't be processed, and employees will have to create another one in the new system. If you have concerns or questions, please contact trs-support@ucmerced.edu .
Welcome new staff: As the division has been actively recruiting for a variety of positions, I would like to thank our Human Resources team and the folks involved in search committees and interviews. We are pleased to welcome the following staff members who joined in April:
Joshua Brooks / General Accounting
Gurpartap Dhaliwal / General Accounting
Javier Alvarado / Accounts Payable
Ashleigh Philips / General Accounting
NeriNelly Aguilar / Financial Systems Support
Get to Know: Kevin Reyes
Each month, we train a spotlight on one of our division colleagues to learn about their lives at UC Merced and beyond. Is there someone you would like to nominate for the monthly profile? Let us know.
What's your job title? Talent Development Manager
What does your job entail? I spend my days providing resources and support to make every member of our campus community have a better day. To help them in their day's work, face unexpected challenges, lean into leadership moments, and find ways to make today incrementally better than the day before. Creating communities of practice, marketplaces of ideas, and learning as much or more from those I work with as I share with my campus community.
What do you enjoy most about your job? Workshops, PowerPoint and roleplay, oh my! Seriously, though, the chance to come into contact with, learn from, and collaborate with all levels of leaders on our campus. And when I say all levels, that includes the individual worker, who leads by example, who maximizes others, who champions others' strengths, who shares an empathetic ear, and who influences by being accountable and actionable. We have leaders at every level we can learn from and gain rich experience from, all day, every day.
How long have you been with UC Merced? I've been with UC Merced for a little over a year, but this is my third UC campus and sixth formal UC position. I started at UC back in 1999 and have returned a couple of times. I'm in my seventh year of UC service total.
How would people describe you? In one word: hybrid. I am a blend of cultures from Missouri to Mayagüez. A synthesis of academic arenas that include Vertebrate Zoology, English Literature, Instructional Technology and Organizational Leadership. Hence the multiple roles at UC campuses. I'm someone who strives, in the immortal words of Yoda, to "always pass on what you have learned."
We hear you have a penchant for alliteration in emails. Whoa, whoa, whoa! Wonder where "we" would witness whimsical wordiness while working? Sometimes sending silly synchronous sounds shares smiles. … It's my alternative to emoji use.
What do like to do when you're not working? I'm kind of a homebody, which fits the unusual world we're in today. I've been stretching my cooking chops and becoming more seasoned at using my Traeger as well as making Disney Desserts like churros, Dole whip and beignets. Under normal circumstances, I enjoy attending sporting events with my family. They can be professional events or competitions that involve our family athletes; we have football and basketball players and a swimmer. I'm the local board president for swimming, love to hit the pool myself, and like to play golf when the course is available.
DFA Question of the Month
Thanks to those who responded to last month's question: During these challenging times, what do you do to unwind and relax? Here's what we learned:
I sit cross-legged in front of my fish tank and quietly focus on watching them swim and listening to the sound of the water. Look it up! Studies show it has proven benefits for your health. —Stephanie Zuniga, Center for Business Services and Solutions
Gardening. — Andrea Hall-Cuccia, Institutional Research and Decision Support
I have been using the Calm app provided by the university. It has helped tremendously. — Meagan Torres, Procurement & Contracting Services
Gardening. This summer, when we are back in the office (hopefully), there will be plenty to share! — Melissa Tessier, Financial Systems Support
I run. — Lori Callaway, Equipment Management
I really enjoy adult coloring books. It helps to unwind after work or even on my work breaks during the day. — Megan Potts, Campus Travel Management
This month's question:
What was the latest thing that made you smile?
Please submit your response by Tuesday, May 26. Selected responses will be published in the next DFA Monthly Newsletter. Looking forward to discovering more about our talented team members!
Do you have questions? Feedback you want to share? Items to include in the next newsletter? I encourage everyone to reach out via our Comment Box or by emailing us at dofa@ucmerced.edu.
Sincerely,
Mike Riley