Greetings, Division of Finance and Administration colleagues,
To say May was an impactful month is an understatement. We honored co-workers for UC service milestones (more below). We learned UC alumnus Juan Sánchez Muñoz is UC Merced's next Chancellor . But the May 25 death of George Floyd in Minneapolis and the resulting anger and anguish expressed in protests nationwide deserve our immediate attention. Floyd's death was the latest case of unconscionable, institutionalized violence against African Americans and other people of color in the United States. I stand with other UC Merced leaders , along with UC President Janet Napolitano and Regents Chair John A. Pérez in condemning these brutal acts, and call on my Division colleagues and others in the university community to take thoughtful action against racism and oppression.
Please read the "In Solidarity" message from campus leadership. Thank you.
And now we arrive in June, nearly three months after the coronavirus outbreak forced us into new ways of working and collaborating. Merced County was approved to move deeper into Stage 2 of the state government's plan to reopen California. Some of us remain on campus, keeping things humming in anticipation of the day we can be together again. Many more of us are connecting from our homes, keeping our multitude of projects and initiatives on schedule. I'm inspired by every single one of you.
Stay informed: Remember to keep an eye on your inbox for fresh guidance about the university's response to the coronavirus pandemic, and check these links for archived information and answers to questions.
Congratulations to DFA Celebrating Service Award Honorees: On May 18, the Division recognized 29 staff members who celebrated milestone anniversaries with the UC System. Two ceremonies were held via Zoom, and the chat rooms were lively with congratulations from attendees. You can watch a recording of the Auxiliaries event here and of the DCC-based units event here .
Welcome to new FFS staff: Financial Systems Support (welcomes two staff members to the team:
Koffi Apedoh joined the team March 23 as a Financial Systems Support Analyst. Koffi holds an MBA in finance and previously was a financial analyst for Emerson Electric Asia. He is an avid educator with more than four years of experience as a French teacher in the Philippines and the United States. Koffi enjoys photography and fun outdoor activities.
NeriNelly Aguilar joined FFS as a Financial Systems Analyst on April 6. As part of the Payroll Services team at UCLA from 2008-2013 and from 2016-2018, she supported various systems, including the former Personnel Payroll System and its successor, UCPath. She transferred from UCLA's David Geffen School of Medicine, where she was the staff, volunteer and talent acquisition coordinator for the Department of Pathology and Laboratory Medicine. Prior to working at UCLA, NeriNelly worked at UC Merced from 2013 to 2016 in Payroll Services, assisting in the campus go-live of TRS.
And more new staff : As the division has actively recruited for a variety of positions, I would like to thank our Human Resources team and the folks involved in search committees and interviews.
We are pleased to welcome Kunal Sinha, Dining Director, who joined UC Merced in May. Welcome, Kunal!
In addition, a number of Division staff have transitioned to new roles and/or new departments in May:
Cathy Simmons, Student Employment Supervisor
Jodee Wilson, AWE / Overpayments Facilitator
Mah Noor Chaudhry, Student Collections Coordinator
Denise Cardenas, Project Portfolio Financial Supervisor
Maria Higareda-Marquez, eCommerce Business Analyst
Sofia Mortera, Administration Coordination Team
Diego Molina, Administration Coordination Team
Regina Brigham, Administration Coordination Team
We're excited to welcome the following staff members to their new Divisional roles this month:
Erica Macias, Financial Analyst
Mubeena Salaam, Financial Systems Support Team Lead
Martin Sanchez, Stores Worker
Karole Morgan, Project Portfolio Financial Analyst
Mike Ebrahimi, Project Portfolio Financial Analyst
Patricia Perez, Project Portfolio Financial Analyst
Kassi Reyes, Project Portfolio Financial Analyst
Sudheer Paka, Financial Systems Support Analyst
Lucy Sicairos, Project Portfolio Financial Analyst
Dining deserves an award: Congratulations to Dining Services, which won an award in the Sustainable Food Service category from the California Higher Eduation Sustainability Conference. Dining Services was honored for starting a food donation program for "ugly produce" – vegetables that are misshaped by supermarket standards but perfectly good to eat. The produce was donated to food-insecure students and to the community.
Introducing the Supply Chain Center of Excellence: Several years of effort, driven by the university's Supply Chain modernization initiative, has resulted in a new operations model that centers on excellent customer service enabled by efficient, cost-effective operations. The primary reason for this new model – to maximize value to the campus through enhanced cost savings and revenue generation goal – is more important than ever as our campus works to address financial challenges brought on by the coronavirus pandemic. With the new operations model comes a new name: the Supply Chain Center of Excellence. Read more about the initiative and the changes yet to come.
Shipping, receiving, warehousing shift to Supply Chain: A big step in Supply Chain's modernization initiative is the assumption of Shipping, Receiving and Warehouse management functions. The change marks the beginning of holistic management of the supply chain lifecycle. A new key member of team is Logistics Supervisor Randolph Encinas, who came aboard in March. Randolph has over 25 years of experience in critical logistics roles for firms such as DHL Worldwide, Coca-Cola and XPO Logistics. Welcome, Randolph! Randolph works alongside Frank Flores, Leonard Munoz, LIz Bartley and Martin Sanchez – and they collectively represent the Logistics team. Go here to read more about Procurement and Contracts' modernization plans.
Timesheet changeover: Note that the TRS timekeeping system is down temporarily. It is scheduled to return Thursday, June 4, after changing hosts from UCLA to UC Irvine. At that time, monthly employees can create their May timesheet and bi-weekly employees can start submitting their hours for pay period starting June 1. Though TRS is changing homes, its online location remains the same. Questions? Reach out to Payroll Services .
TAM arrives: Congratulations to colleagues in Human Resources and OIT who guided the June 1 launch of Talent Acquisition Manager (TAM). The platform streamlines the application process for staff positions, accessed via UCPath . Note that TAM makes it easier to find and apply for internal postings – openings filled only from within the university community.
Attention, telecommuters: A reminder that staff working remotely need to amend their Temporary Telecommute Agreement , which has been extended to July 31. There's a simple online form to extend the agreement. Please update your telecommute addendum as soon as possible.
More great ideas from ECEC to keep children engaged and busy: Many of us have been working remotely since mid-March, balancing university responsibilities with caring for children who also are staying home. Thank goodness for Early Childhood Education Center Director Danielle Waite, who continues to share ideas for smart and engaging activities that young ones can enjoy. Check out the latest list , which includes links to previous posts from Danielle.
Get to Know : Lucero Mascorro
Each month, we train a spotlight on one of our division colleagues to learn about their lives at UC Merced and beyond. Is there someone you would like to nominate for the monthly profile? Let us know .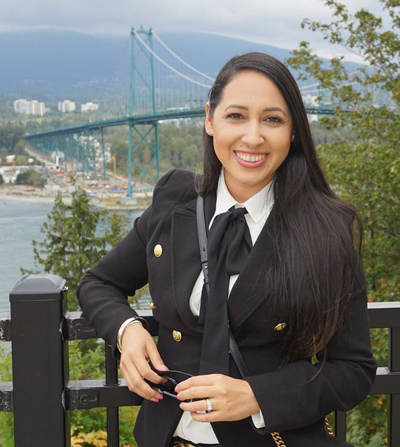 What is your job title? Senior Financial Analyst
What do you do in your job? I work directly with Student Affairs to provide financial support throughout the division. I get to work with departments such as Student Life, Career Services, Bright Success Center, Recreation, Athletics and many more in providing financial reports, forecasting, scenario planning and overall support in fund management. Every department in Student Affairs operates differently and they all have unique challenges. It's always interesting to learn more about each of the departments and it certainly keeps me on my toes and thinking of creative solutions. I get to work closely with the Chief of Staff of Student Affairs and together we work on standardizing processes and looking for areas we can improve. I also work with the Student Fee Advisory Committee, providing them the financial support for their review and evaluation of student service fees.
How long have you been with UC Merced? I've been with UC Merced for a year and a half. I moved to the Valley from San Diego with my family at age 15, so while I'm not a Valley native I've lived here most of my life.
What do you enjoy the most about your job? I get to work with all of the departments in Student Affairs, which are doing amazing work for our students. I get to work with the Basic Needs Programs and Undocumented Student Programs, to name a few, and so I feel like I contributed in a small way to the support provided to students.
What do you do to relax? Take a trip to the beach, put my beach chair and umbrella in the sand and just stare at the water for hours.
What TV shows have you binged on lately? "Tiger King." I had to understand what all the memes were about.
My comfort food is: Crunchy chicken rolled tacos, with cotija cheese, sour crème, salsa verde and avocado.
DFA Question of the Month
Thanks to those who responded to last month's question: What was the last thing that made you smile? Here's what we learned:
My 13-month-old son has mastered walking, which is now more like running, so I took him to the backyard to explore on his own. He was so excited to run around outside instead of being in his stroller. I was all smiles seeing him so happy. — Sana Ramzan, Human Resources
The laughter of children! Their pure joy over the smallest things warms my heart and can brighten any day. It is a great reminder to enjoy the moment and appreciate the small, simple things in life. — Jessica Johnston, Campus Travel Management
This month's question:
Which living person do you admire the most? Why?
Please submit your response by Tuesday, June 23. Selected responses will be published in the next DFA Monthly Newsletter. Looking forward to discovering more about our talented team members!
Do you have questions? Feedback you want to share? Items to include in the next newsletter? I encourage everyone to reach out via our Comment Box or by emailing us at dofa@ucmerced.edu.
Sincerely,
Mike